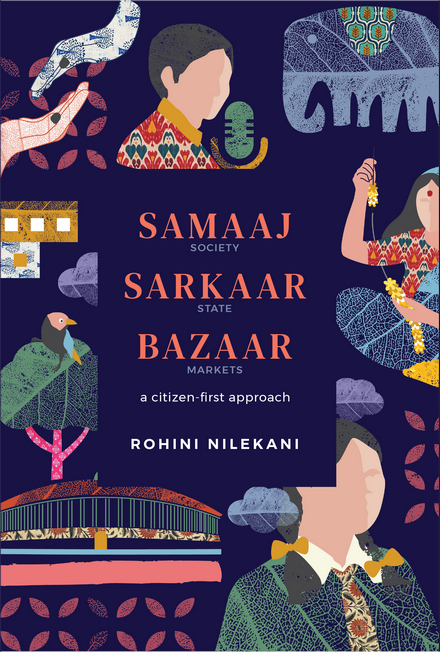 Samaaj, Sarkaar, Bazaar
A collection of over a decade of articles, interviews, and speeches by Rohini Nilekani, Samaaj, Sarkaar, Bazaar: A Citizen-First Approach, showcases her journey in the civil society sector and outlines her philosophy of restoring the balance between the state and markets, by positioning society as the foundational sector.
"Samaaj, Sarkaar, Bazaar" is a compelling read that not only brings together Rohini Nilekani's views on these three essential pillars but also provokes readers towards further thought and action." – Rukmini Banerji, CEO – Pratham Education Foundation
Read for free
Samaaj, Sarkaar, Bazaar is self-published under the Creative Commons License, CC BY.
The goal is to allow people to download it freely as a pdf, read it and share it forward, so as to further a meaningful discourse on the roles of Society, State, and Markets.
Creative Commons licenses are helping us build a more equitable, open, and innovative world that allows greater collaboration, creativity, and — most importantly — access. You are permitted and encouraged to create and share derivative works such as a read-aloud, translation, or format adaptations, as long as you credit Rohini Nilekani for the original creation.
Read for free
Buy the book
Samaaj, Sarkaar, Bazaar is available for purchase from major retail platforms and select bookstores.
The proceeds of the sale go back to organizations supported by Rohini Nilekani Philanthropies.
A Look Inside
The Journey
In the introduction, Rohini Nilekani gives an overview of the Samaaj-first philosophy, which has guided her civic involvement and personal philanthropy for the past three decades.
Read the introduction
Compilation of Articles
A collection of articles, interviews, and speeches, Samaaj, Sarkaar, Bazaar: A Citizen-First Approach is an archive of Nilekani's evolution of thought over the years.
Read the articles
Looking Ahead
Through personal anecdotes and persuasive arguments, Nilekani asks us to critically examine our role as citizens and whether we can be more active in creating an equitable and just society.
Read the epilogue
Rohini Nilekani
Rohini Nilekani is an author and philanthropist and has been a strong influence in the Indian social sector over the past three decades. Her philanthropic work spans different sectors of the Indian civil society. She founded Arghyam, a foundation for sustainable water and sanitation, and Pratham Books, a non-profit enabling access to reading for millions of children. Currently, she is Chairperson of Rohini Nilekani Philanthropies and a co-founder and Director of EkStep, a nonprofit education platform. Rohini and her husband, Nandan Nilekani are signatories to The Giving Pledge, pledging to give away half of their wealth to philanthropy.
As an author, she has published several titles including Stillborn, a medical thriller, and Uncommon Ground, based on her work anchoring the Indian TV program of the same name. She is also a grandmother and has written over 14 children's stories, many of which are inspired by her grandson, Tanush.